Main Image: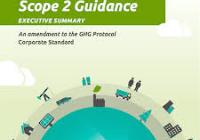 The Scope 2 Guidance standardizes how corporations measure emissions from purchased or acquired electricity, steam, heat, and cooling (called "scope 2 emissions").The practices explained in the Scope 2 Guidance are now required for companies that wish to comply with the GHG Protocol Corporate Standard. The guidance includes:
New requirements for accounting for emissions from energy contracts and instruments (such as renewable energy credits) in GHG inventories
Eight Scope 2 Quality Criteria that all contractual instruments must meet in order to be a reliable data source for the scope 2 market-based method
Recommendations for transparently disclosing information about energy purchases
Eleven short case studies to illustrate the benefits of the new requirements
Download the Scope 2 Guidance 
Download the Scope 2 Guidance Executive Summary 
Download the Scope 2 Guidance Case Studies
About the Scope 2 Guidance
Four years in the making, the new Scope 2 Guidance is the most significant update to the Corporate Standardsince its inception. The guidance was developed with the input of with over 200 representatives from companies, electricity utilities, government agencies, academia, industry associations, and civil society in over 23 countries.
The Scope 2 Guidance offers much needed clarity on how corporations measure emissions from electricity and other types of energy purchases. This heightened level of transparency could play a pivotal role in unleashing corporate demand for more renewable electricity.
Nearly 40% of global greenhouse gas emissions can be traced to energy generation, and half of that energy is used by industrial or commercial entities. To reduce these emissions, companies typically turn to energy conservation, efficiency upgrades, and supply switches to low-carbon electricity, whether through on-site installations or through changing (via contracts and electricity suppliers) the energy products purchased.
The Scope 2 Guidance is required reading for companies that follow the Greenhouse Gas Protocol Corporate Accounting and Reporting Standard. For ten years, the Corporate Standard has provided a common framework for corporate greenhouse gas accounting; currently, 85% of companies that report their emissions to CDP have adopted the Corporate Standard.