Main Image: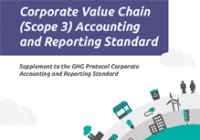 Scope 3 emissions can represent the largest source of emissions for companies and present the most significant opportunities to influence GHG reductions and achieve a variety of GHG-related business objectives. Developing a full corporate GHG emissions inventory – incorporating scope 1, scope 2, and scope 3 emissions – enables companies to understand their full emissions impact across the value chain and focus efforts where they can have the greatest impact.
Through the development of the GHG Protocol Corporate Value Chain (Scope 3) Accounting and Reporting Standard, the GHG Protocol has responded to the demand for an internationally accepted method to enable GHG management of companies' value chains. The Scope 3 Standard provides requirements and guidance for companies and other organizations to prepare and publicly report a GHG emissions inventory that includes indirect emissions resulting from value chain activities (i.e., scope 3 emissions). The primary goal of this standard is to provide a standardized step-by-step approach to help companies understand their full value chain emissions impact in order to focus company efforts on the greatest GHG reduction opportunities, leading to more sustainable decisions about companies' activities and the products they buy, sell, and produce.  The standard was developed with the following objectives in mind: 
To help companies prepare a true and fair scope 3 GHG inventory in a cost-effective manner, through the use of standardized approaches and principles 
To help companies develop effective strategies for managing and reducing their scope 3 emissions through an understanding of value chain emissions and associated risks and opportunities 
To support consistent and transparent public reporting of corporate value chain emissions according to a standardized set of reporting requirements 
Who should use this standard?
The standard is intended for companies of all sizes and in all economic sectors. It can also be applied to other types of organizations and institutions, both public and private, such as government agencies, non-profit organizations, assurers and verifiers, and universities. Policymakers and designers of GHG reporting or reduction programs can use relevant parts of this standard to develop accounting and reporting requirements. 
The standard does not address the quantification of avoided emissions or GHG reductions from actions taken to compensate for or offset emissions. Use of this standard is intended to enable comparisons of a company's GHG emissions over time. It is not designed to support comparisons between companies based on their scope 3 emissions. 
Compatibility with other GHG Programs
The is more than a technical accounting standard. It is intended to be tailored to business realities and to serve multiple business objectives. Companies may find most value in implementing the standard using a phased approach, with a focus on improving the quality of the GHG inventory over time. The Scope 3 Standard complements and builds upon the Corporate Standard to promote additional completeness and consistency in the way companies account for and report on indirect emissions from value chain activities.