Main Image: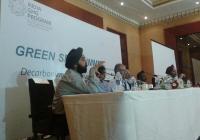 The India GHG Program, a voluntary industry led partnership, hosted a high level summit that aims to address opportunities and challenges on greenhouse gas management across SMEs and extended supply chain partners with support from Deutsche Gesellschaft für Internationale Zusammenarbeit GmbH (GIZ), a German government owned not-for-profit enterprise supporting sustainable development.
The Summit accentuated specific examples and best practices of collaborative engagements and formalyl launched of a do-it-yourself SME GHG Accounting tool. It aims convened various stakeholders and key influencers together to explore potential avenues of collaboration between large companies and SMEs across the value chain using GHG Accounting as a tool.
There are business benefits associated with management of greenhouse gas emissions, and these are not limited to large organizations alone. Small and Medium Enterprises (SMEs) form the core of the economy, and contribute not just to the supply chains of select large organizations but to the overall GDP in a significant manner. However, the challenges that SMEs face in terms of understanding the environmental impacts, benefits or opportunities are very unique and these are generally pertaining to dedicated capacity, resources and availability of tools/guidance etc.
The India GHG Program has active engagements with more than 28 of the largest businesses in India, with its activities across tool development, energy and emission management, training and capacity building, peer interactions etc. duly supported by the Pirojsha Godrej Foundation, Shakti Sustainable Energy Foundation and German Federal Ministry for Environment, Nature Conservation and Nuclear Safety (BMU).
See Also, Green SME Summit, press release
Speakers
Mr. Jamshyd Godrej, Chairman, Godrej and Boyce Manufacturing Co. Ltd.
Mr. Ravi Pandit, Group CEO & Managing Director, KPIT Technologies
Dr. Nitin Pandit, Managing Director, WRI India
Mr. Dipankar Sanyal, CEO, TERI BCSD
Ms. Beroz Gazdar, Sr. Vice President, Mahindra and Mahindra
Mr. K.S Venkatgiri, Deputy Executive Director, CII Green Business Centre
Mr. Pankaj Bhatia, Director, GHG Protocol
Mr. Aditya Agarwal, Managing Director, SA Glass
Dr. Chandan Giriya, CEO, Matru Chemicals
When and Where
Start Time:
July 16 , 2014 04:00 PM
End Time:
July 16 , 2014 11:30 PM
Location:
The Lalit, Sahar Airport Road, Mumbai