Organized By:
India GHG Program
Main Image: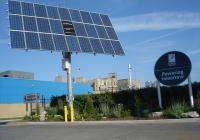 Speaking at the Make In India week Power Minister Piyush Goel promised solar manufacturing would become markedly cheaper in the next 18 months to meet national renewable energy targets. In 2015 investment in clean energy increased by 22 percent to reach USD 10.9 billion, and financial institutions have pledged more than USD 75 billion towards renewable energy.Clean energy is India has a promising future and to utilize the immense inherent potential requires substantial investment at affordable rates. 
India's official estimates price the nation's renewable energy target at approximately USD 150 billion needed over the next 7 years. There is an evident gap and the only way to bridge it is to mobilise funding and make it accessible via innovative financial mechanism. The success of green bonds reflects the private investor's interest and highlights the role of financial institutions in tapping it.  Collaboration among private players and financial institutions backed by progressive policy makers will ensure a clean energy market that is self-sustaining, competitive and profitable.   
Towards this the India GHG Program is hosting an online interaction with its founding member Yes Bank, Executive Vice-President - Responsbile Banking, Srinath Komarina and our guest expert on clean energy finance Jeffrey Schub will be presenting.  
Mr Komarina will be focusing on the national context as he speaks on the role that financial institutions and the private sector investors play in providing ample and affordable funding for clean energy projects. Mr Jeffery Schub will be bringing the international perspective as he talks about the different financial models being used globally to establish sustainable clean energy markets which are able to leverage market forces to become competitive with conventional energy markets. 
The following are now available 
Agenda - attached below.
Presentation made by panelists - attached below.
Recording of the webinar - here
Responses by speakers to participant questions - attached below. 
When and Where
Start Time:
March 18 , 2016 08:30 AM
End Time:
March 18 , 2016 10:30 AM