Main Image: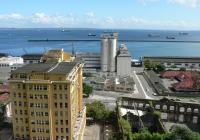 The first working high level working group meeting with the aim to prepare 'Approach paper on GHG emissions from Building Sector', was conducted on 3 September, 2015 at HICC, Hyderabad. A second working group meeting was conducted on 20, November 2015 at Mahatma Mandir, Gandhi Nagar, Ahmedabad. The meetings started with the introduction of the India GHG program, by WRI, followed by a brief presentation made by CII- Godrej GBC to set the background and the purpose of the meeting. This was followed by a quick round of introductions of the participants and their background. 
The High Level Working Group meeting was organized to have inputs for preparing an 'Approach Paper on GHG Emissions from Building Sector'. WG members aimed :
To provide guidance on preparing  the 'Approach Paper on Carbon Emissions from Building Sector'
To suggest strategy and methodology to formulate emissions tool for building sector.
To suggest on methodologies/ technologies/ strategies for reducing GHG emissions from building sector.
To provide insight in various aspects of building sector and suggest approach for GHG accounting- Building sector.
Minutes of Meetings
Approaches for emission accounting: Working Group participants, suggested splitting up the various stages i.e. material production, construction, user phase and emissions up to end of life of building ; to have an accurate GHG emission accounting for a building. It was also suggested to account for the emissions upto the commissioning of the building and leave further emissions (nature of operation) in  the users account.
Others suggested following the LCA approach for building sector GHG accounting, in order to have  to have an accurate accounting of emissions and to promote - green buildings, green construction & energy efficient material.
WG members provided their inputs for obtaining data for emission calculation, as follows :- 3D city mapping, digital surface models, stereo images/lidar survey outputs can become useful tools to understand urban sprawl, urban built up area footprint, building volumes, roof areas and related analysis can be useful for GHG emission accounting.
Technical and Policy initiatives:
Participants suggested including GHG accounting in the National Building Code (NBC) as a mandatory practice. Moreover, that the steps to control GHG emissions should be the part of NBC. They opined that any high rise building and commercial building should follow this policy in order to obtain the approval for construction. Such policy would have nationwide impact.
Power and water issuance should be given only if the builders use low carbon technologies in the building.
Solar water heating and roof top solar should be made mandatory. And atleast 30% of energy requirements should be met through renewable resources.
Appliances should be star rated or made of new technology for e.g. Air Conditions with DC inverter technology.
Retrofits/ regular maintenance would be helpful to reduce GHG emissions. The Government could announce the minimum age of building or mandate  retrofits / mandatory maintenance at regular intervals (for e.g. Once every 5 years). 30-40% energy consumption can be reduced by retrofits.
Government could incentivize low carbon buildings and/or provide rebates in property tax for owners of such buildings. It could also incentivize the use of low consumption or net zero building.
ESCOs could join with consultant / builders to lower building emissions.
Products with high energy consumptions should be penalized. This will help flourishing low carbon design & green products competition. Low carbon products could be subsidized.
Low emission building designs with design principle depending on the climatic zone of the construction venue, materials locally sourced. Further, examples of such practice could be disseminated widely.
Initiate 'Design Certification System' on the basis of GHG emissions.
Develop an India specific Standard for GHG Accounting & Management for Building Sector.
Currently, Green Buildings account for approximately 1 percent of total construction. More green buildings should be built or green building principles need to be implemented by all builders like in France, wherein the declaration of environmental performance of building products are mandatory, and without which builders are not allowed to use those products in construction.
Some countries already practice labeling of buildings on the basis of 4 indicators: Building material; Renewable energy; Non-renewable energy; and  Water & Soil. This could be replicated in India.
GHG emission inventorization for building sector can be done considering the operations performed in the building.
Awareness regarding GHG management in service & IT sector need to be enhanced. After learning about the benefits, services sector may implement 'GHG emission management' in their sector.
Develop a separate GHG emission calculation tool specific to the Indian Building sector. 

The inclusion of interior decoration as it could sometimes be made of energy intensive material like – steel /aluminum panels, imported material, wood, other material with short life span, changing decors etc. The approach for inclusion of interior decor into the GHG accounting should be looked into.
Nest Steps:
Following are the proposed next steps:
India GHG Program (IGHGP) can publish the following:
Approach paper on GHG emissions from commercial building sector
Consolidated account of 'Benefits of GHG management in building sector'
Standard for GHG accounting - Building Sector
Create awareness on 'GHG Management' among building sector stakeholders - builders/ developers/ architects and other segments associated with building sector. They need to be made aware about GHG accounting to proceed towards GHG management.
Approach Builders to implement pilot- GHG Accounting and management
To approach builders / developers associations to join as IGHGP member. Further, IGHGP can percolate down to various building sector companies/ segments in construction sector.
ANNEXURE: List of Attendees
The meeting was administered by India GHG Program Secretariat and was provided inputs by 38 national and international experts/ professionals from various companies and anchored by 4 members from IGHGP Secretariat. 
Participants (1st and 2nd Meeting)
Mr Jinendra Jain, Tishman Speyer
Srinivas Tallapragada, CA
Mr Sudhir Kumar N, TCS
Mr V Ravi, TCS
Mr Amit Nijagal, TCS
Mr Naresh Yadav, Ascendas
Mr Ashutosh Kaushik, HCL Technologies Pvt Ltd
Mr Saurabh Chakraborty, HCL Technologies Pvt Ltd
Mr Gyanendra Singh, HCL Technologies Pvt Ltd
Ms Maija Virta, Santrupti
Dr Kunal Shah, Gujarat Energy Research & Management Institute
Mr Rumi Pheroze Engineer, Godrej E &E, Godrej & Boyce Mfg. Co. Ltd
Mr Vabhav Goel, Godrej & Boyce Mfg. Co. Ltd.
Mr Barun Aggarwal, Paharpur Business Centre
Individual, MEP Consultant, Gandhi Nagar
Mr Siddharth Gokhle, Architect, self-employed
One to one interaction
Mr Prasad BYN, FortuneArt LED Lightening Pvt Ltd
Mr Bhavesh, Mapple Stainless Processing Pvt Ltd
Mr Vishnu Kant Vashisth, Shree Cement Ltd
Mr Pulla Reddy Botta, Ultratech Cement
Mr P Koti Radha Krishna, Ashirvad Flowguard Pipe & Fittings Ltd
Mr M. S Thapar, Adapt Technologies and Consultancy Services, Hyderabad
Mr Prem C Jain, Chairman, IGBC and Chairman, AECOM, India
Mr M Anand, Principal Counsellor, CII- GBC
Mr Shahrukh Mistry, Mistry Architects
Mr Yatin Pandya, FOOR PRINTS Environment Architecture Research Technology Housing (E.A.R.T.H)
Mr C Velan, CEO, TRIL InfoPark Ltd
Mr Inderjit Singh, MD, HPS
Mr A Solanki, HPS
Mr Sanjay Gupta, Canadian Wood, Forestry Innovation Consulting India Pvt Ltd
Dr Mitesh Dadhania, Gujarat Technological University
Mr B R Ajit, Chairman Indian Institute of Architects, Kerela; Chairman & Director, Asian School of Architecture & Design Innovations
Ms Shreya Dalwadi, Harmony planning Services Pvt Ltd
Mr Eli Cohen, Ayala Water & Ecology, Israel
Mr Prashant A Rajhans, K Raheja Corp
Mr Aniket Chaudhari, IES
Ms Mala Sinha, PEC Solutions Green Design Pvt Ltd
Ms Asha Sharma, Ireo
India GHG Program (IGHGP) Secretariat :
Dr Shalini Sharma, CII- Godrej GBC
Mr Chirag Gajjar, WRI
Mr Atik Sheikh, CII-GBC